Project in Brief - Rach Parcell Home
Mastering the Bath in Style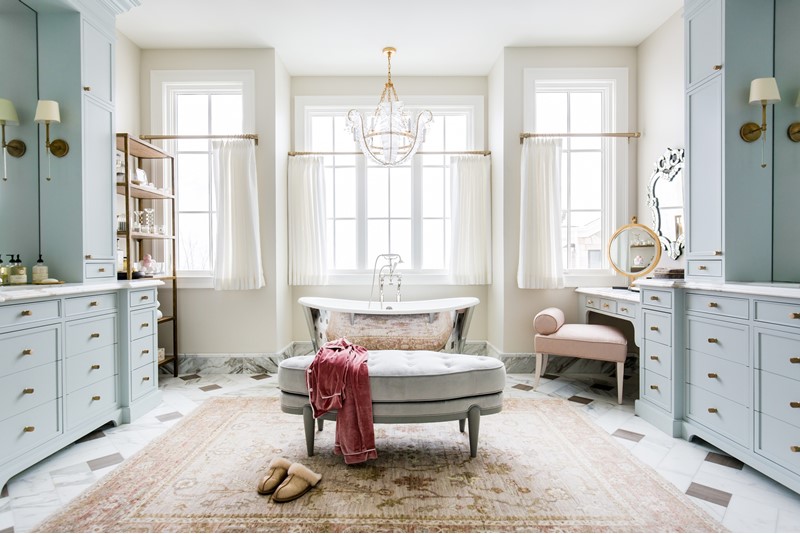 Beyond a space for prepping and pampering, the master bathroom is at once hub and haven. From launching pad to personal oasis, the master bathroom serves as a refuge to recharge and relax. Where the kitchen may be the heart of the home, the bathroom – moreover the master – is that private space away from it all.

Fashion designer, blogger, and tastemaker Rachel Parcell teamed up with Alice Lane Interiors to create a space that serves its every need with ease. Blending functionality beautifully with ambiance is imperative for Rachel and her busy family of four. To achieve Rachel's vision, Crosswater London bath fittings, fixtures, and accessories were chosen to work seamlessly with each design element to bring this room to life.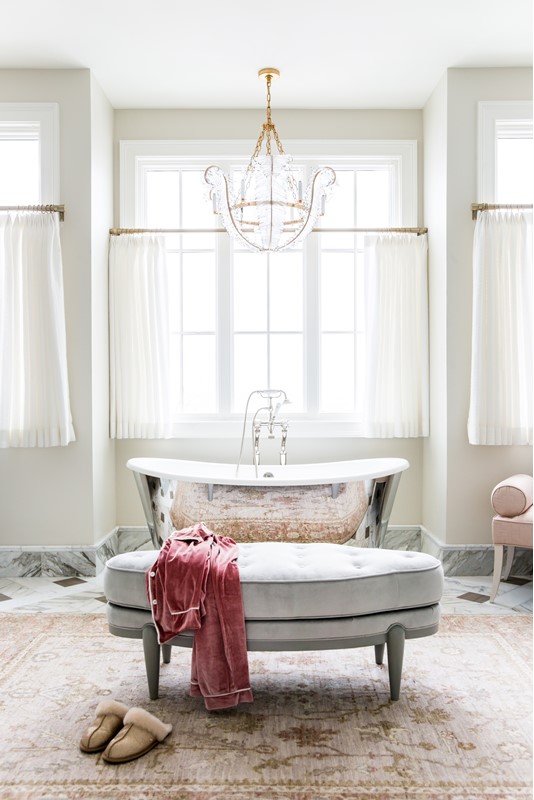 ---
"We wanted a beautiful and functional space. We think our plumbing fixtures are like the jewelry to our bathroom."
-Rachel Parcell
---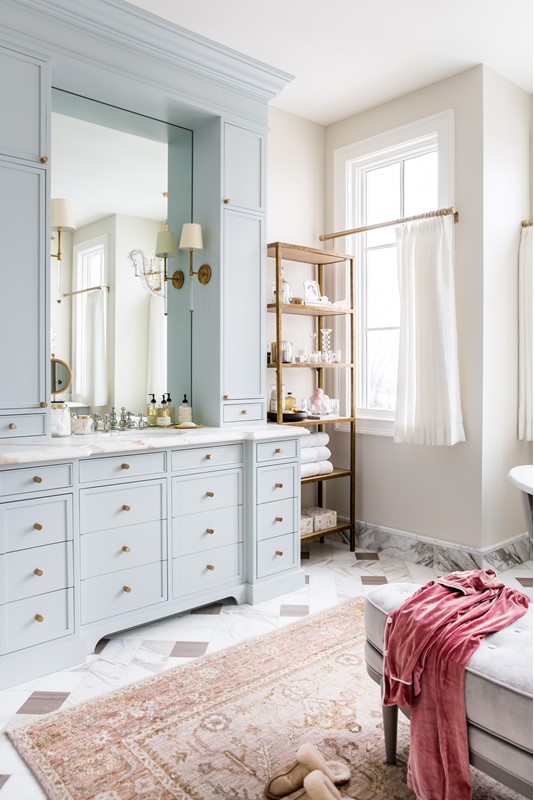 Rachel knows a thing or two about design. She is currently one of the most successful fashion bloggers in North America. Her blog Pink Peonies started in 2010 as a life journal for family and friends until her impeccable style and design sense quickly turned it into a highly successful blog. Here she discusses fashion, beauty tips, home decor, and more. She has one million followers on Instagram, and her clothing line, Rachel Parcell Collection, made its debut at Nordstrom this Spring.

Rachel collaborated with longtime friend and trusted designer Jessica Bennett, Founder and Design Principal of Alice Lane Interiors, to translate the experience and feeling desired for her newly built home.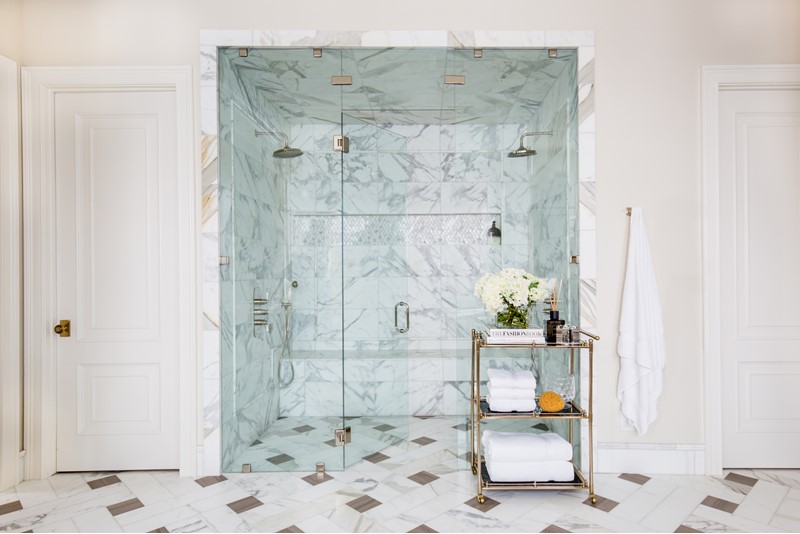 ---
"Working with a design client like Rachel who knows fashion and values quality elevates our process. It offers a higher starting point so as we continue to add layers to the design, the space can take on an extraordinary life that truly reflects the people who live in it."
–Jessica Bennett, Alice Lane Interiors
---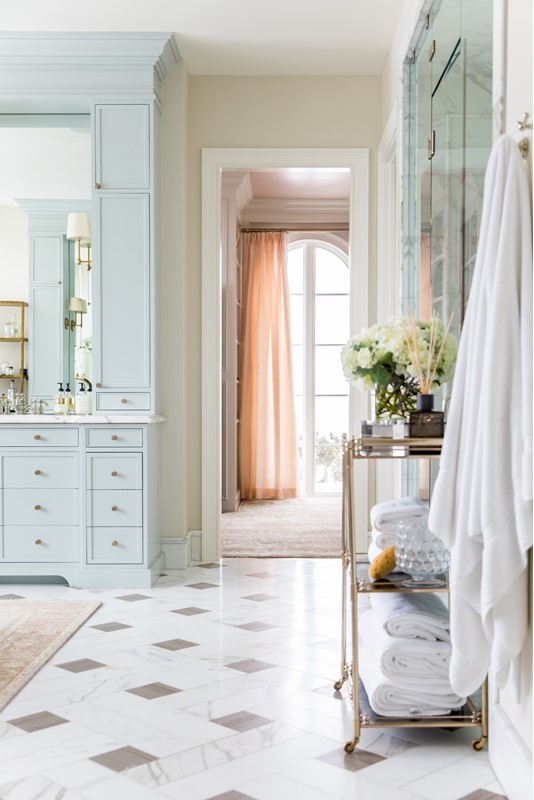 The home is a French modern manor style that uses light tones and soft colors throughout which extends into the master bath. The soft blue in the stain of the cabinetry, whites and light browns in the floor tile, Carrara marble in the shower, and accents of gold and Polished Nickel in hardware, faucets, and fixtures combine to set the stage.

There is ample storage in custom cabinetry and free-standing furniture like the tea cart and matching tall cabinet. The pink and grey tones of the area rug and ottoman add richness and contribute to the luxurious yet comfortable look and feel of the space.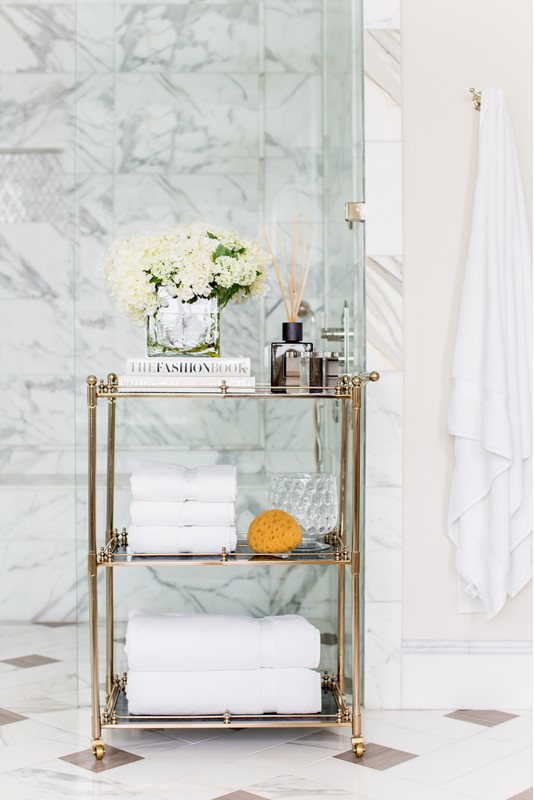 ---
"I love the finish of our brassware. It's soft and pairs perfectly with our brass light fixtures. I didn't want gold over load, I love to mix metals." –Rachel Parcell
---

As with any jeweled setting, the final touches are carefully considered. For the tub, faucets, and fixtures, Alice Lane Interiors worked with Salt Lake City showroom Mountain Land Design and selected a range of products by Crosswater London.

A key feature in the room is the Balthazar Bathtub wrapped in Polished Stainless Steel. Allowing for views and ample floor space, the freestanding soaker commands its own recessed area under the chandelier.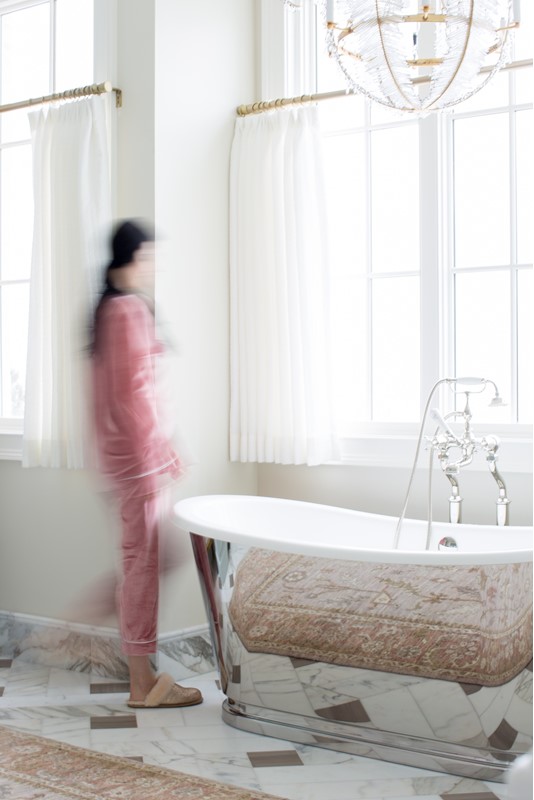 ---
"A freestanding tub was one of the big requirements as well as a space that was large enough to accommodate the other general bathroom activities without feeling cold or sterile. A polished stainless steel exterior finish was chosen so it would reflect the rich marble floor and textures of its surroundings and was placed perfectly to take in the mountain views."
-Jessica Bennett, Alice Lane Interiors
---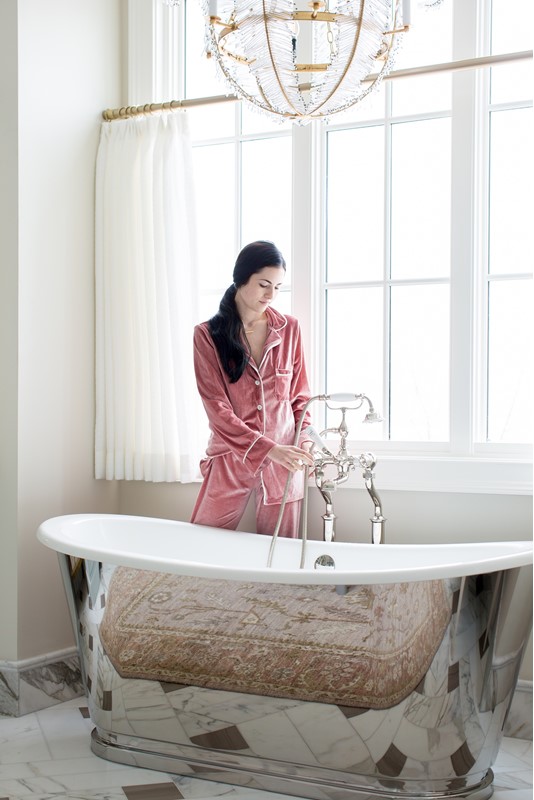 The faucet is the Belgravia Exposed Tub Faucet with Handshower and Cross Handles with Belgravia Floor-mount Pillar Legs.

Selected for their classic styling, the faucet and handshower add the perfect companion detail in Polished Nickel finish with White Lever handles.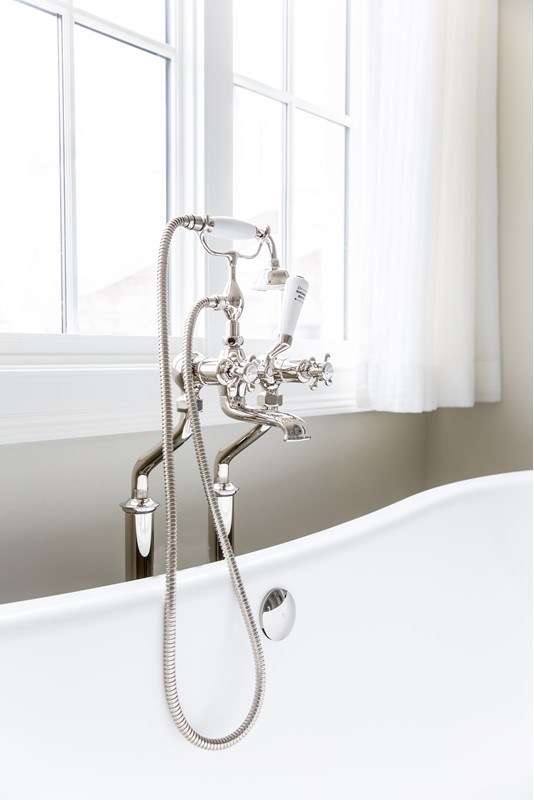 This design theme carries into other areas of the room. The Carrara marble basin is outfitted with the Belgravia Widespread Basin Faucet with Cross Handles.

The shower is also Carrara marble, and is capped with fittings and glass attachments finished in Polished Nickel.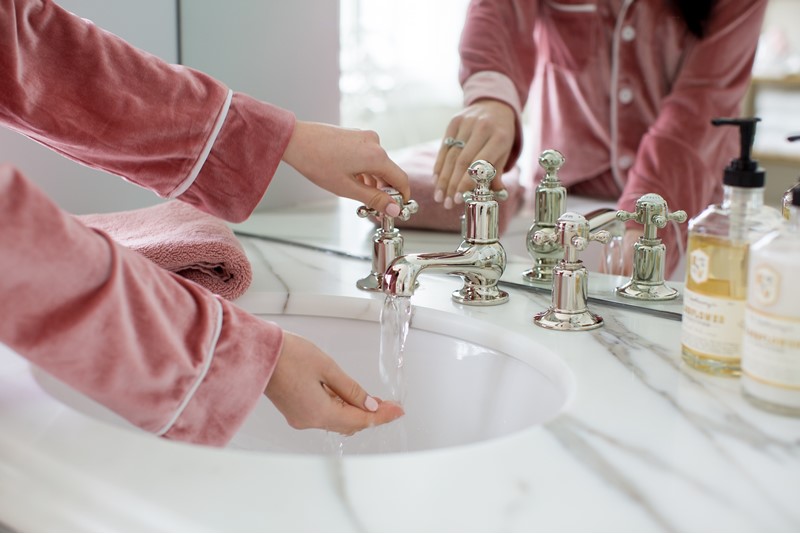 ---
"Details like Crosswater London bath fittings and fixtures are well suited because they act like pieces of jewelry in unexpected applications."
-Jessica Bennett, Alice Lane Interiors
---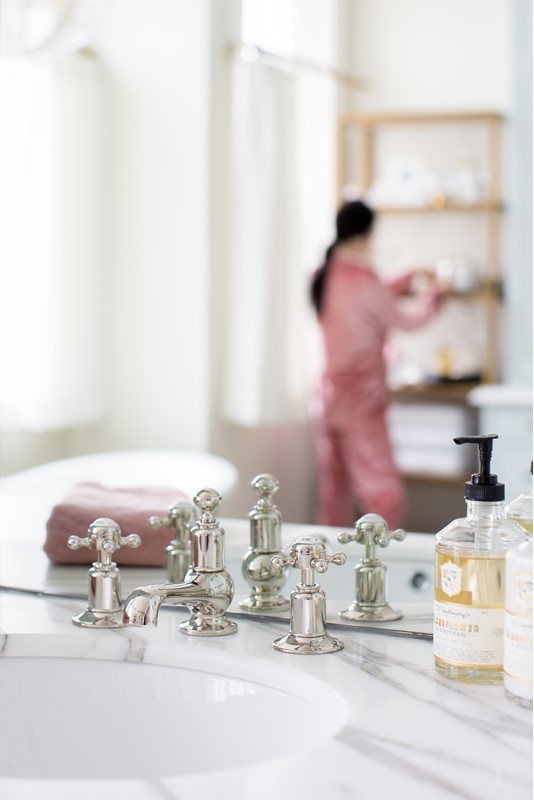 The Belgravia 3000 Thermostatic Valve Trim is combined with the Arcade 9" Air Boost Rain Head and Belgravia Handshower Set in Polished Nickel and White.

Towels are stored nearby using the Belgravia 24" Towel Bar and Belgravia Double Robe Hooks in Polished Nickel finish.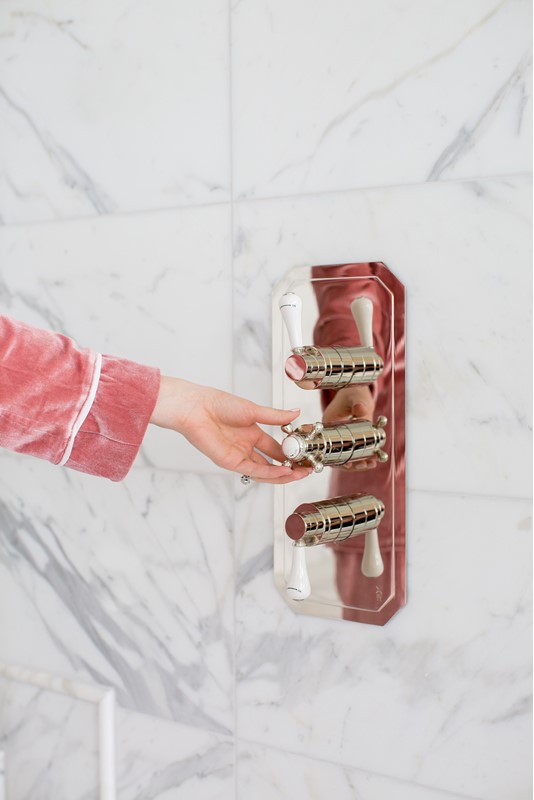 ---
"Don't be afraid to mix your metals! A beautiful polished nickel pairs beautifully with brass!"
–Rachel Parcell
---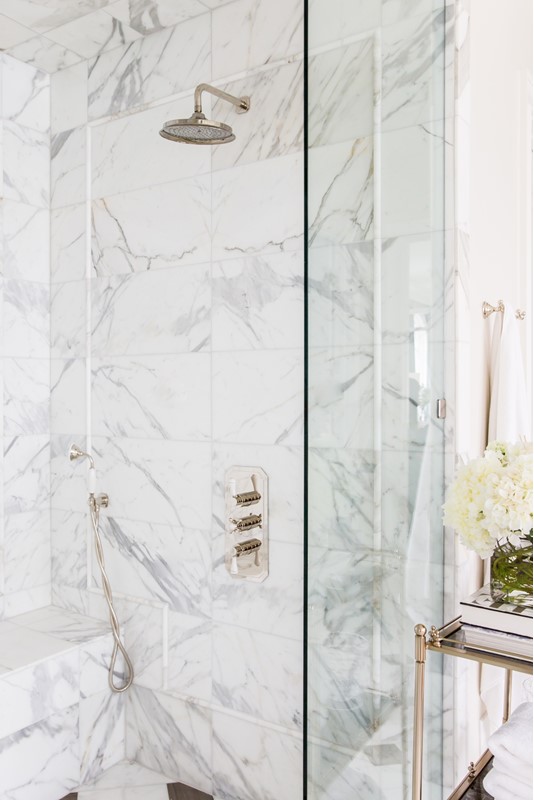 This same treatment extends to the water closet. A Belgravia Two-piece Toilet and Belgravia Paper Holder beautifully complement the colors of the wallpaper.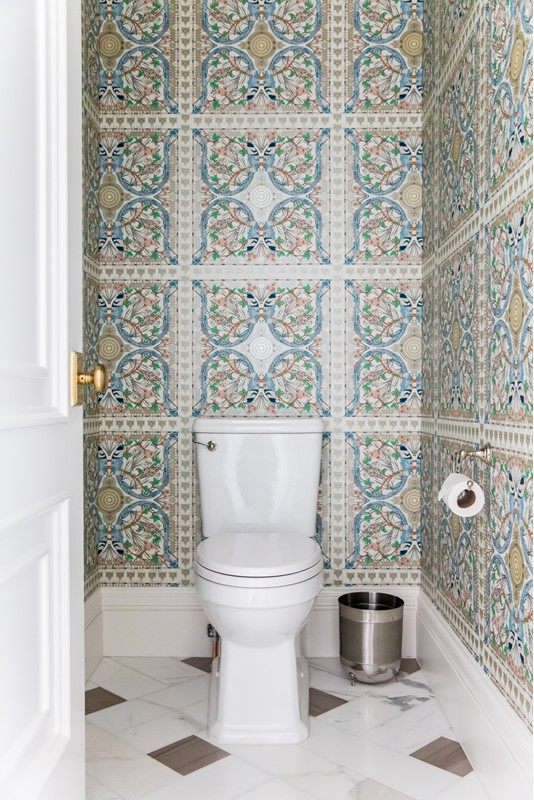 ---
"We wanted the bathroom to feel like the experience you would have in a high end hotel and still provide opportunities to personalize it. The fixtures provide a perfect way to add surprising details to the space that don't detract from the functionality or comfort but rather enhance that touch point."
–Jessica Bennett, Alice Lane Interiors
---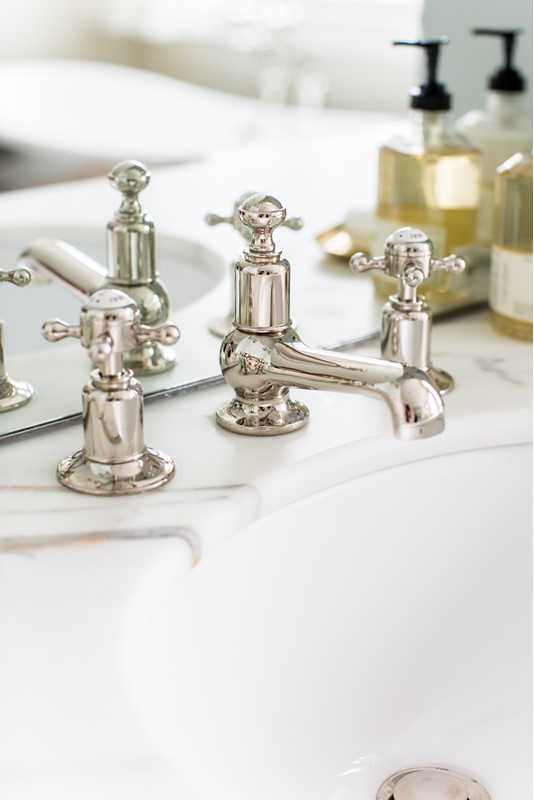 Each element was carefully considered to provide the ultimate in function, warmth, and beauty at every turn to work seamlessly for Rachel's active lifestyle.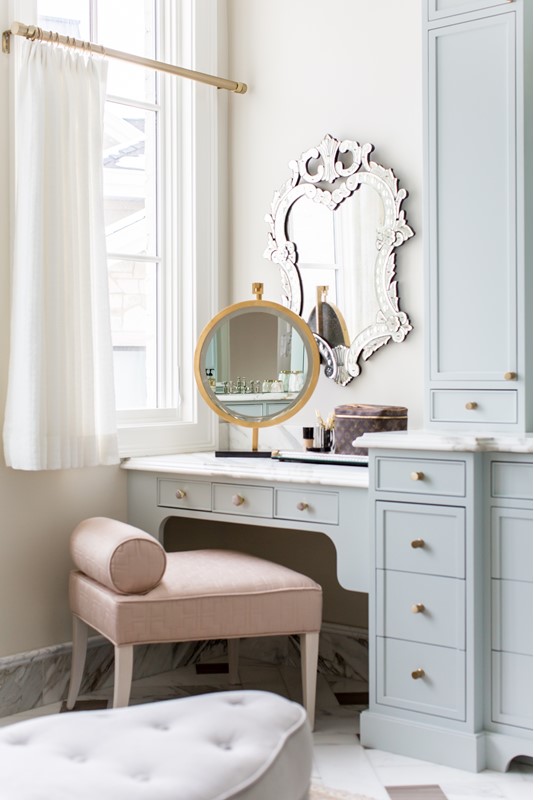 ---
"This space was meant to be a respite while still accommodating Rachel's lifestyle with her toddlers and constant work schedule. It was important that it be a place where Rachel feels beautiful and refreshed so we provided opportunities to elevate her everyday bathroom routine."
–Jessica Bennett, Alice Lane Interiors
---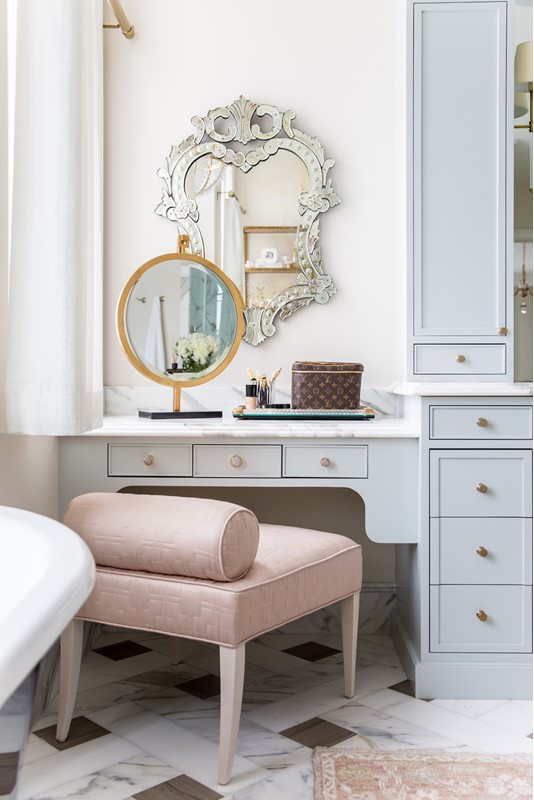 ---
"It's a sanctuary after a busy day full of toddler negotiations, conference calls, photoshoots and design meetings. It also serves as a beautiful backdrop for images we shoot for my blog in my bathroom."
–Rachel Parcell
---
With its welcoming design, natural light, and range of creature comforts, this master bath gracefully meets and exceeds expectation for a functional and beautiful oasis.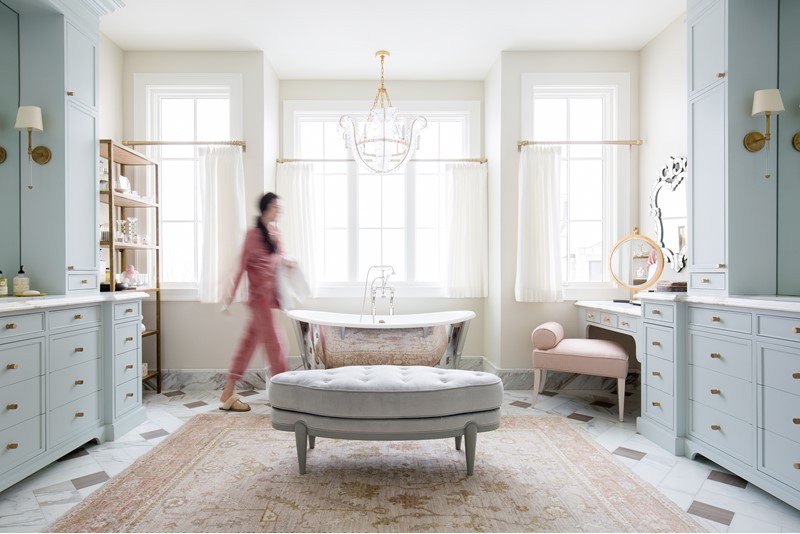 Photos by Lindsay Salazar.

More inspirational projects this way! With a design brief to create a uniquely British hotel combining character and comfort, Crosswater London's Belgravia collection offered the perfect fit for The Laslett Hotel.